By NADIA MICHEL
Looking for love and marriage? We've rounded up the taste-driven data to help you optimize your search for a life partner on dating apps in the Middle East and beyond.
To know more about online dating and startups in the Middle East, listen to my podcast interview with the co-founder and CEO of dating app Hawaya, Sameh Saleh.
A lot has been said about which foods are most romantic on a date, or which nuts are considered to be an aphrodisiac (pistachios, FYI). But now that dating and finding a mate has gone digital, there might be a whole science to which favorite foods you should put on your dating profile. Of course that science is still in its infancy, so many of the hypotheses and conclusions here are based on transposed real-world data and a few surveys. But nevertheless, here's some food for thought.
Evidently, dating apps and algorithms are more sophisticated than ever, with each platform catering to a particular type of person, based on the type of relationship they're looking for, and equipped with a list of carefully considered questions meant to maximize your chances of finding a scientifically compatible mate. And recent polls show that where and what you like to eat has serious consequences.
Champagne and strawberries might work like a charm on Tinder, but in the case of Hawaya, a dating app geared towards Muslims and the Middle East, it's all about catering to cultural norms. "For example, we ask users how they pray," explains CEO and co-founder, Sameh Saleh. Indeed, that's an essential question that ensures that your potential mate won't be irritated by your sunrise prayer or turned-off by your flagrant lack of piety. But Hawaya's app also has an 'Interests' section that includes questions about cooking and going to restaurants. Indeed, this is an area that deserves attention: food preferences, and the psychology behind it, are not to be overlooked. After all, you are what you eat.
According to US dating app Zoosk, mentioning guacamole, potatoes and chocolate on your profile makes you more attractive, earning users up to 144% more inbound messages. Mentioning yams, on the other hand, is a major turnoff that can result in a 70% decrease in inbound messages. If you converted this data to Middle Eastern equivalents based on what they represent in Arab culture, you could safely assume that coosa mahshi (stuffed zucchini) would be a stick in your love wheels, while hommus would be an algorithm score.
But universally, there is some common ground when it comes to food preferences and the role it can play in identifying a potential mate. For instance, women are more likely to be attracted to adventurous eaters (as in, "Sure! I'll try a jellied moose nose!"). People using the words "vegan" "vegetarian," or "veggie" are also 74 percent more likely to get a message than the average profile, in a study recently conducted in the US and the UK. Whether that number would be as high in the Middle East is unclear, but at the very least, this detail might help you find a like-minded life partner when it comes to health, ethics and the environment.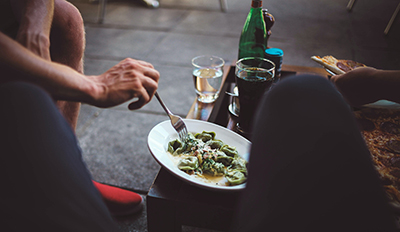 In real life, studies have shown that women prefer the smell of a man's sweat after he's eaten garlic and the body odor of those who eat foods rich in carotenoids (pigments found in veggies and fruits such as pumpkins, carrots or apricots.) The theory behind these olfactory oddities is that we have evolved skills that help us recognize good health. While there's no evidence that listing toum (garlic sauce) as your favorite food on your dating profile will up your digital popularity, I can personally attest that anyone who announces a dislike for garlic and onions would be crossed off my list. Way too finicky.
Eventually, once you've matched with your taste-bud soul mate and your family has finally approved your choice (Hawaya actually offers an option that allows your guardian to review your message thread, if that's your thing) and made it to a first date, you'll want to sweeten the deal with, well, sweets: a study conducted in 2014 called "Sweet love" by Ren et al. found that participants evaluated a hypothetical relationship (as opposed to an existing one) more favorably when experiencing sweet taste and also found that sweet taste also promoted a greater level of interest in initiating a relationship with a potential partner. That might be because tasting sweet food increases dopamine levels, which has been identified by previous research as "a key biological substrate of passionate love." The conclusion? Indulge in desert on your first date. No need for muhallebi or kanefeh or anything fancy, though. Mini Oreos worked in that American study, so even a couple of Lebanese-made Gandour biscuits will do the trick.
Ultimately, you'll definitely want to be honest about your food preferences on serious dating platforms, especially if you're looking for a real relationship. And whatever you do, be sure to avoid listing several obvious aphrodisiac foods (like oysters, strawberries and figs or teen in Arabic) which will raise a red flag for anyone worth their salt.
Remember, the idea is to find someone you can prepare and eat many, many meals with, hopefully with pleasure and without going into anaphylactic shock.
From agriculture to fashion and furniture, Lebanon's industry is about to kick into gear. It's a country that is rich with natural resources, talent and the shrewd, astute business minds to bring it all together and swiftly. During a recent interview on The Men's Room podcast, Joe Tabet, the Lebanese founder of Dubai-based JT +Partners, explained how he gave up a high-paying position five years ago to start his own business from scratch, now a world-class architecture and engineering firm with over 70 employees. "In the Middle East you have a kind of 'gentlemen's agreement' mentality. Instead of taking six months to negotiate you negotiate in five minutes and prepare the paperwork simultaneously."
Anyone in the world that's thinking of building a business right now has massive opportunity ahead, but that's especially true in Lebanon. "You need to think big and act big. That's major for the success of any story," Tabet reminds us. It's an oldie but a goodie, and that's the X-factor what will determine the future for this proverbial phoenix, a tiny but feisty country on the Mediterranean Sea.